Brightly Colored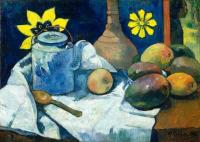 Food is not just about taste. It's about smell, and texture, and color. In some important, primal way, food colors signal things to us, and safe to say a monochromatic diet is not a healthy one. "The deeper the color, the healthier it is," say Whole Foods' crack nutritionists. To complete the Brightly Colored feat, you must make sure there are at least three bright colors on your plate at every meal, for just one day.  Get your inner Gauguin going, and have fun with this one. Think beets, kale, eggs, melon, curry...BLUEFISH! Need some inspiration? Check out these cool placemats.
Really Great Related Links:
Image: Paul Gauguin
Instructions:
Login or Register
to complete a feat! Swear that you're honest, then click!
Brightly Colored Related Posts