ALWAYS LEAD, NEVER FOLLOW
You wrote, we like ~ the Eds.
August 22, 2010. Portland, OR - The Portland Half Century bike ride. Pedaling and pedaling and pedaling for hours. And hours. And hours. To many, cycling 50 miles is a piece of cake, but to me, it's a major milestone and accomplishment in my short-lived life on two wheels.
The morning begins at 8:40am at the Park Blocks in downtown Portland. Everywhere I look, all I see are people in these matching spandex outfits. I stand there by myself in the middle of the crowd, wearing a blue Nike Sportswear tank top, capris, reflective Super sunglasses, an Orange-dotted messenger bag, and pink flip flops. Definitely not matchy-matchy, definitely not spandex.
Grabbing some water and my bib number, I forgo the piles of bagels, coffee, and energy bars. I feel energetic and full of power...no need for the extra calories and carbs if I have enough. With not too many staff or volunteers, I'm unsure of what to do next. Let's just follow along and pretend like I know what I'm doing. "Do we start now?" I ask a random dude. He says, "You can pretty much start whenever. Just start riding!"
Ok. Just start riding. Easy enough.
So I find a spot on cool pavement sidewalk, put on my little clippy shoes, red superhero arm warmers, and helmet without ipod. Looking around for somebody to tell me to go, there is nobody official, so I hop onto my beautiful bike, and go.
Mile 1 - Mile 18.6 : The first few miles were nice. Sunny, slow, and friendly. Chatting it up with a few older men, they tell me I have nothing to worry about. Moving up to a faster crowd, I meet an Argentinian and a cocky dude wearing the championship colors. I stay with them, because they're stopping the traffic in front of me. I then find this Italian looking chick with an outfit that matches both her hair and her bicycle. We ride about 3 miles together - then I make a move and pass her. She was going to slow and scratched her nose too much.
Rest stop #1 - 18.6 miles in. A lil Gatorade power, half a banana. Word. And I'm gone.
Miles 18.6 - Mile 28: Cool. I lead my pack up a few hills, but then I missed a turn because I don't know how to read the spray painted "John Henry's" on the ground. Well, I learned then!
Rest stop #2 - Hot Lips pizza. Probably the best pizza in Portland, and they were baking it there. Mmmmm. I couldn't resist and got a slice of the Pepperoni. It was ridiculous. Met a friend, a girl my age whom was weirded out about there being so many dudes seemingly checking her out in all of her spandex glory.
Mile 28 - 40: This stretch was kind of gnarly. Upon leaving the campgrounds with the pizza, we head up a hill and onto the water, a road called Marine Drive. I immediately felt a nasty head wind. Uh oh....find a bike to drift behind FAST! Well, this idea quickly disappeared because somehow I became the leader of my mini-peleton. Two grown men were drifting behind me, so I pretended like I was Levi Leipheimer in the Tour de France, not wanting to let his team down. Then when I grew a little tired, I thought of the inscription in my Bontrager road bike shoes, "Always lead, never follow." So I pushed myself even harder, and I pushed those dudes behind me.
Rest stop #3 - Peanut butter and jelly and watermelon time! With each rest stop, the talking and chatter gets quieter, with everybody too tired to talk, just focusing on rehydrating and eating a quick bite. 10 miles to go.
Miles 40-50: Vamos. My lungs and body felt great. Like I was just on a warmup ride. My quads were feeling it a bit though. I passed a bunch of women and a few dudes on the last few hills. Yeeps.
Mile 50: Made it. I did it. Sigh. That was cool.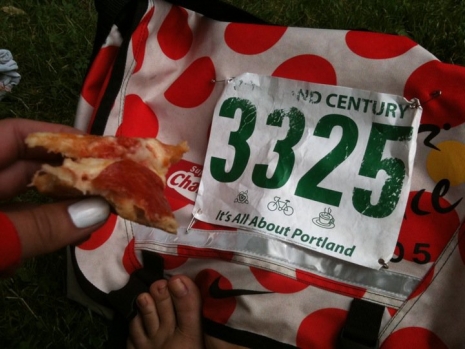 Workout Date:
Sun, 08/22/2010 (All day)