in search of wild parrots
2.5 hours walking yesterday: 1 hour at lunch and 1.5 hours in search for wild parrots on the Hudson River Greenway with a friend of mine. She'd spotted the nest the day before and wanted to show somebody just to prove she wasn't seeing things. She said it was a big nest; she wasn't kidding. Turns it's not just a bird or two; it's a colony. We found a video about it this morning, and I was hoping to embed it here but am having a heck of a time figuring it out, so here's the link. Pretty cool.
There are apparently quite a few of these little guys in Brooklyn but these are the first in a long time in Manhattan. You can find out more about Brooklyn Parrots on their Facebook page (yes, they have one).
Where (gym, studio, etc.): :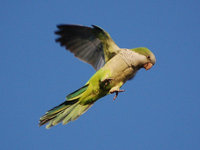 Workout Date:
Wed, 08/11/2010 (All day)