JERKING
In Crossfit, we occasionally get asked what our favorite Olympic lift is. I waver between the Deadlift, Power Cleans, and the Push Jerk. Today I made myself believe that the Push Jerk was my favorite.
In the 5 classes prior to when I worked out at 5:30pm, not one girl had Rx'ed the work - done it at the prescribed weight. I honestly thought that was kind of bananas because I believed the prescribed weight should be heavier!!!
Focused with my eyes on the prize to finish this workout quickly and efficiently, I put my head down and did work.
WOD
5 ROUNDS
10 Push Jerks (135lb/75lb Rx)
20 Knees to elbows
I finished in 8:54 - the QUICKEST TIME OF THE DAY, men or women! Also one of two chicks to do it Rx'ed.
My only regret?I should have gone heavier.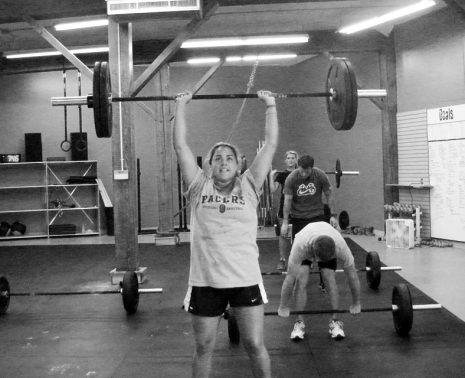 Workout Date:
Tue, 08/03/2010 (All day)