CROSSFIT SANTA BARBARA
Continuing on with my mission to visit a different Crossfit affiliate gym wherever my travels take me, today I popped into CROSSFIT SANTA BARBARA!
CFSB has been in town for 2+ years now, the first affiliate in the city. Interestingly, a new Crossfit just opened up....ONE BLOCK AWAY. To me, that's not very neighborly. Not very Crossfit. So, I'm sticking with CFSB for my workouts while I'm in town. The owner Tyler doesn't even charge a drop-in fee, which is amazing.
This spot is superdope because all workouts are outside. It's like an adult jungle gym playground, full of Olympic weightlifting bars, steel pullup bars, rowers, and boxes. Heaven! The palm trees sway to the left of the building, and during the afternoon classes the shadows of the trees illuminate our area. It's actually unbelievable until you get in there for a workout.
YESTERDAYS WOD:
AMRAP (As Many Rounds As Possible), 7 Minutes
7 Thrusters (75 lbs)
12 kettlebell swings (35 lbs)
7 pullups (W band)
I got 5 rounds on the nose - the most out of any dude/dudette in my 6:30 WOD. Word.
TODAYS WOD:
7 ROUNDS
7 Power snatch (55 lbs)
7 Knees to elbows
My time = 9:09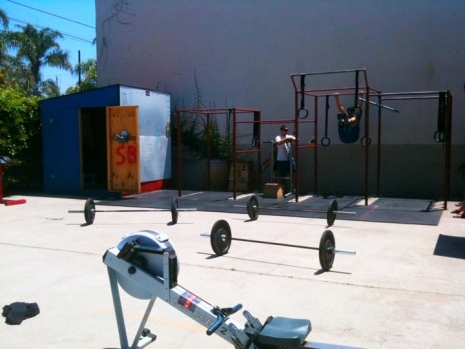 Workout Date:
Fri, 07/23/2010 (All day)