Boston Terriers may be psychic
It was not easy to motivate today. I spent the weekend at home with the Husband, doing largely very little, we leave for ComicCon in a week, and our schedules have been extra hectic lately, so the quiet time was extra nice. So going to work was difficult. Going to the gym after falling asleep on the bus home was harder. Sophie made it damn near impossible.
Sophie isn't my dog. She's notoriousjbg's boyfriend's pup. They were moving this weekend, and rather than have her underfoot, we offered to help them by taking her for the day. The day ultimately became the weekend, and having her around was great. We can't have dogs in our building, and I desperately miss having one, so I borrow dogs whenever I can. The Husband also likes to remind me that I am nicer when I have a dog. This is probably true. Sophie and I spent a lot of time snuggling and fighting over a spot on the couch this weekend, so I was sad to see her go today.
I spent half an hour debating whether my time would be better spent chilling with Soph. Sophie has put the guilt on me before. Seriously, you've never met a dog that could bend your will like this. "I can see Danielle next Monday." "Does Sophie look mad at me?" "I'm so tired." "Do you think she will go running on the River with me?" And then I said "I need to rest for Crossfit tomorrow." Yeah. I have some anxiety about this class. I haven't really kept up with the push ups and pull ups I did for the Feralicious challenge. I hoep to god they make me ride a bike or something. Or squat. I'm good at squatting. I think I was using poor Sophie as an excuse to cower in fear of tomorrow's beginner class.
Sophie knew it, too. She didn't guilt me like she usually does. Instead, she was zipping around my ankles, following me around as I went looking for my gym clothes. She didn't even pout when I put on my sneakers. She just gave a knowing look, then hopped onto the couch with the Husband. If she had given me any resistance, I probably would have caved, but today Sophie was taking no guff.
I ended up doing a ridiculous amount of seated climbs with Danielle. I usually don't mind them at all because I'm good at them, but I was praying for a standing run by the time we finished the second on. Which of course I loved, because I am a glutton for punishment. And that will come in handy tomorrow, I'm sure..
After class, I dashed home because Sophie was going back to Brooklyn shortly. I was rewarded for my workout and prompt return with a bunch of grooming. Sophie sat on my lap and basically licked my arms clean. I don't think I've ever been so happy to be sweaty and nasty with salt after a workout..
Where (gym, studio, etc.): :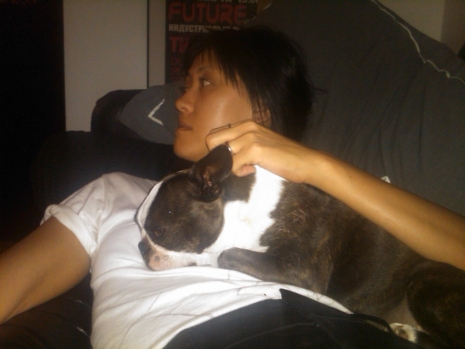 Workout Date:
Mon, 07/12/2010 (All day)