LESS GAS MORE ASS
On Saturday night, I think I became a true Oregonian. Along with 10,000 other folks, I contributed to the slogan of our city, "Keep Portland Weird!" by participating in the worlds largest Naked Bike Ride. And you know what? It was AWESOME!!!
My buddy Raf and I showed up at around 10:20pm, riding from his house in NW to the meeting point in SE Portland. A Brasilian samba band greeting us, nearly naked samba girls and all. Folks were still clothed, because we had a bit of time before kickoff. I found the free bike shop, and they helped me tighten up my hubs and coaster brake for free (Yey!).
Raf and I biked around looking for beer, offering to buy a can of Pabst off of some folks...but they needed to keep it for themselves, trying to warm up on a bit of a chilly evening.
10:45pm: Time to strip. The feeling was contagious. A girl to the left of me was taking off her shirt. A hipster dude to the right of me was taking off his pants. A hot chick was getting some body paint on her boobies. The bike mechanic took off his shirt. I wish I had some body paint and some boy shorts on. I wanted to take it all off, but I just wasn't ready.
11pm: The countdown! People yelling, so excited to get out there and ride, proud of their bodies, happy together. All I see are butts and boobs. I hiked up my khaki miniskirt and took off my tank top, joining in to where I felt comfortable. Oh, I was also wearing a giant purple wig. Raf took off his shirt, but left on his shorts.
11:01pm: Rounding the corner and out of the gates, immediately there are people lined up watching us come down the streets. Music blasting, smiling people on the "parade" route, camera flashes, Flip cams in every direction - We were a show! I loved all of the "LESS GAS MORE ASS" and "BP SUCKS" signs. Riding my single speed, you actually had to be aware of the other riders since there were 10K of us in total...no bare ass crashes (Ouch!). Going along bar routes, all of the drunk folks came out onto the street cheering and whistling for us, big happy smiles. We cheered and wooted back at them. Man, the energy was so amazing! Pedaling as a group across the Burnside Bridge was amazing. I saw a few naked joggers next to us, a few naked roller skaters also. Coming into downtown Portland, and through the gay district was the best because it was PRIDE weekend also. The drag queens were all partially naked also, in their best attire cheering us along. Riding a few more miles across another amazing bridge and into NE, we made our way down one of the best downhills in the city. Wind blowing through my purple hair, screaming at the top of my lungs, smiling at my new friends. It was about 10 miles after all was said and done.
Bucket list. Ride in a naked bike ride. Check.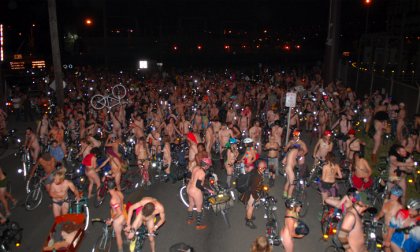 Workout Date:
Sat, 06/19/2010 (All day)