Crossfit Amsterdam, HOLLA
While on my whirlwind tour of Western Europe, I make a quick pitstop into Crossfit Amsterdam. Similar to CF Brussels, this box was in the suburbs, really only able to get there by car or a long bicycle ride. Saturday AM, 9:30AM...It's on.
I was staying with my friend Moris, whom is a very tall and cute Dutch man. However, he does not work out. It seems like nobody in Amsterdam actually works out, they just ride their bike everywhere for transportation (They don't even really see that as exercise). So when I woke him up at 9am and made him put on sweats and a tshirt, he was just confused. "Adri, this is too early. Adri, I don't know if I want to do this anymore. Aghhhh."
Fortunately, he had already verbally committed and the good men don't go back on their words.
We hopped in his car and drove about 3 miles down the road to the Western side of Amsterdam and found this little Dojo in the middle of a random park. Hmmmm. The coach Jarno was running a little late, thank goodness, so we had time to wander around. Jarno is this super amazing Dutch dude, and super hot. Most Crossfit guys are actually.
Once inside, we see that it's a world class Muay Thai facility. Super dope.
We begin. We finish. It was killer. My friend had a red face and sweat dripping down his face. He said most folks in Amsterdam just don't think to get out of bed at 9am on a Saturday and punish themselves like this, but he said he enjoyed it. Perhaps I made a believer out of somebody.
Jarno and I were talking after the WOD, and he was mentioning how cool it always is to meet other Crossfitters from around the world because we all have the same mentality. The mind of an athlete with a constant optimistic state of mind, always wanting to push ourselves and make ourselves better. Again, I love Crossfit and the community that we've built.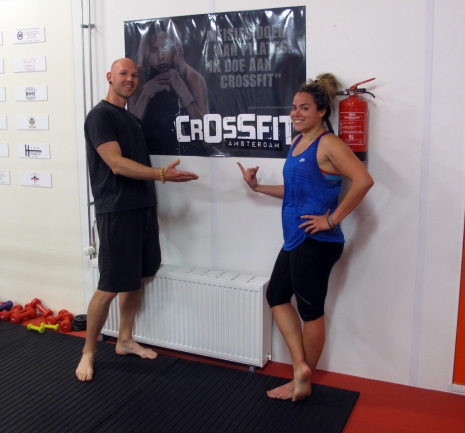 Workout Date:
Sat, 06/05/2010 (All day)