Crossfit Brussels, WHAT!
You wrote, we like.
Before leaving to Europe, one of the only things I actually researched and planned into my schedule was to visit the Crossfit gyms along my journey (Brussels and Amsterdam). Wednesday evening, 18:00 WOD at CF Brussels. Let's go.
I had to take a bus to get there, as apparently the gym was in the cut, way way far out there in the suburbs. I found a good seat next to the window, and actually fell asleep (Was still jet legging), fortunately just waking up before my stop out in Uccle, about 40 minutes later. Black Sabbath and Iron Maiden were playing in my ears, gearing me up for my first international Crossfit experience.
I had to ask directions in French at the bus stop to see where I'm going, but after another 10 minute walk, I found it! Immediately entering, I see the Crossfitters doing some functional stretching, using PVC pipes to try the movements and felt like I was home...The only difference was that they were speaking French. Walking up by myself into the group, they immediately started smiling and welcomed me to their group. "Je m'appel adriana et je suis de crossfit hollywood in LA." A roar went over the group..."Ohhhh, Hollywood!"
WOD "CF Brussels 5"
5 rounds for time:
7 shoulder press
7 thrusters
7 cleans
7 burpees
7 kb swing
7 pullups
As soon as we started, the coaches were yelling at us in French. So cool! "ALLEZ! ALLEZ ADRIANA, ALLEZ!" The thrusters made me want to puke, and my grip was shot during the pullups, but I felt good and my time was 20:40, finishing first out of all of the ladies and all but two of the fellas. The coaches Vincent and Yorgo said I did a great job and that I represented well for the USA...haha, that's some pressure.
I met a new friend from Texas at CF Brussels too. He is in the Army stationed in Brussels and a newbie to Crossfit, but is addicted after 3 weeks already.
Man, it's all about the Crossfit community which I'm so thankful to be a part of. Anywhere you go in the word, you'll find these folks: Healthy, friendly, caring, smiling. i love it.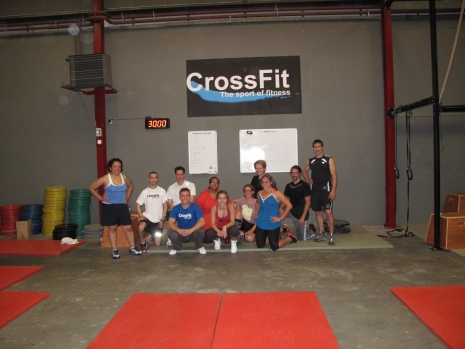 Workout Date:
Wed, 06/02/2010 (All day)