I Am Having a Love Affair with My Shoulders
(Name that tv show scene)
Strength day, and another day of Ab Blast. Tough and satisfying as usual. Then I dropped and decided to see how many big boy push-ups I could do. I did them in the mirror to be sure I was breaking 90 degrees with my elbows. I knocked out five, then finished the set on my knees. Progress! And I gotta say, from that angle I look ripped!
Then I did this shoulder workout, which was fun, quick, and challenging in a different way because I used light weights (five pounds as recommended), but all the reps and variations really produced a great burn without any of that nagging rotator cuff strain that I find comes with assorted shoulder raises. Then another set of push-ups, a set of chest flys (standing, with dumbbells, elbows at 90 degrees--what to call these?), two sets of incline bench presses, two sets of squats, and another set of push-ups.
Best of all, the weather is perfect for running--cool and rainy but not cold or windy--so I'll get a second workout after work.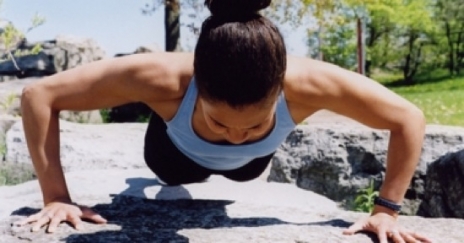 Workout Date:
Wed, 04/21/2010 (All day)