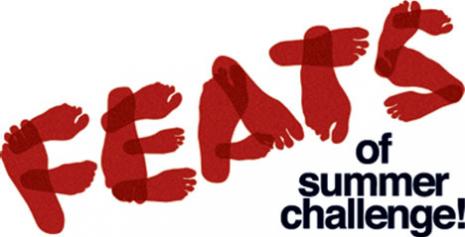 Summer Solstice to Labor Day:
77 Days. 50 Workouts. 20 Feats.
Welcome to camp! By Labor Day you won't remember the pale, worried city kid you are now. You'll be strong, and smiling, and full of enough summer to coast happily to Thanksgiving. It won't always be easy. In the next 11 weeks, some of you will struggle mightily, even cry. But, with a little effort, you can do it. Guaranteed.
Right, to successfully complete the Challenge, you must achieve you some feats! With the help of various Western and Eastern experts, and qualified officials from our very-plugged-in partners, we have created an unprecedented list of 27 mind-body feats. These are available for browsing on our Feats page, (also copied below.) Your job is to achieve 20 of these. Detailed instructions for each feat are on the individual feat page, which is also where you'll go when you want to record your accomplishment.
If you're arriving at this page for the first time, however, you'll want to sign up for a username on Social Workout, and then officially join the Challenge....
Work out and Achieve!
Just as in past Social Workout Challenges, to complete this challenge, you must work out regularly. You may be into Pilates, or Tae Bo, or treadmilling, or long walks. We're not here to prescribe the routine. Paths are many, truth is one. The new wrinkle here, is that we've got some feats of strength, coordination, and/or grace for you to achieve. You may choose your favorite 20, or go for all 27.
Blog It!
Keep track of your progress -- and to allow us to do the same -- by blogging your daily workout on SocialWorkout.com. It's as simple as clicking a button and typing an email. For detailed instructions on how to post a workout, and examples, both minimal and liteary, see here. In the next several days, we'll also be unveiling new feat-acheivement-tracking technology....
Win It!
As in the past, we've rounded up a team of fine sponsors prepared to give away lot's of cool stuff to help motivate you. There are different categories, but to take home the grand banana, you need to achieve all of the feats, to show self discipline, workout creativity, and at least some flair for self expression and community spirit.
Track Your Progress
To see everyone's record to date, check out the official Attendance Sheet!
What Else?
Your posts will appear below, on your user profile page, and on the TalkAmongstYourselves page. Judging will be done both by popular acclaim and our panel of celebrity judges. We'll be updating this page as we go along, but, if you have questions, post them to the site, or email us. That's about it! Ready to go? Just start clicking the buttons below...
The Feats of Summer: Challengers Must Complete 20 of the Following
50 WORKOUTS: Required by all. Over 11 weeks, you must complete and blog

50

workouts. or roughly five workouts a week.
THE MILE RUN: Run a mile -- on a track, in a park, or down city streets. Time yourself. Your targets: Men: 7:15, and Women: 8:15.
HALF MILE SWIM: This is an untimed feat. Must swim half a mile, without the help of flotation devices or swimming aids of any sort. You may complete the feat in a pool, or in the open water, with or without wetsuit. (In an Olympic sized pool with 25 meter lanes, complete 33 lengths. In a 25 yard pool, complete 36 lengths. In pond, lake, or ocean, please find a reliable way to verify the distance. Most important: Please be safe. Stay close to shore, and make sure you are not alone, and can get help if necessary.)
UNDERWATER SWIM: To complete this feat, you must swim 25 yards under water. This may be a full length of a 25 yard pool, or the equivalent in a larger pool, or in the open water. Again, please be safe.
GROUP FITNESS CLASS SAMPLER: To complete this feat, you must take three group fitness classes, as follows. Note: At least two of these must be live, physical classes. One may be taken at home, via DVD, streaming video or audio, or via Wii or other gaming console: Sampler: 1 Spin Class; 1 Yoga Cass; 1 Other Class of Your Choosing, (the nuttier or tougher, the better.)
CHINUPS: Proper form and procedure -- as best articulated by the Marines -- must be followed. Your targets: Men: 10; Women 1.
PUSHUPS: These are proper pushups, done consecutively without breaks. Your back must be straight, arms must bend to 90 degrees and then back to full extension. Knees may not touch the ground. Your targets: Men: 60; Women: 35.
SITUPS: Must do 75 consecutive situps. There are a wide variety of situp forms, we will again use the Marines Phsyical Fitness Test as our standard. (Note: Unlike the Marines, however, there is not time limit for this feat.)
HEADSTAND: Hold a headstand, without support from wall or friend, for at least one minute. See here for guidlines on form and practice tips.
HANDSTAND: Hold a handstand for 20 seconds. You may do this against a wall to help with balance, but you can not have any assitance in holding up your weight. See here for guidelines on form and practice tips.
WHEEL POSE: Hold the classic wheel pose, unsupported, for one minute. See here for guidelines on form and practice tips.
PLANK PERSONAL: Inspired by SW reader body electric. The goal here is to hold a standard plank pose for an extended period. Unlike other feats, this feat will be personalized. If you wish to accomplish it, within the first week of the Challenge you must measure how long you can hold a plank to failure. By the end of the challenge, you then must beat your initial score by at least 50%. See here for guidelines on form and practice tips.
SLEEP DISCIPLINE SIX-BY-SIX-THIRTY: The bedrock of good health, is sleeping well and sufficiently. To complete this feat, you must get up -- and stay up -- by 6:30 A.M. six days in a row.
ONE DAY WATER FAST: To complete this feat, you must go for a 24 hour period without any food. You may drink water, and it is recommended that you drink plenty of it. Note: Please DO NOT attempt this feat, if you believe it could be remotely problematic for your health. There is a wealth of fasting-related information available online. Here is one reasonably good article on how to do a one day water fast.
ALT.HEALTHY.FAST: To complete this feat, you must give up caffeine, alcohol, tobacco, and any other addictive, discretionary drugs for a period of one week.
GENERAL HEALTHY EATING: Cook (or otherwise prepare) and eat one healthy dinner per week, every week, for the duration of the challenge. "Healthy" is subjective in this case, but the meal should be nutritionally balanced, not excessive in volume, and include large quantities of fruit and vegetables. (Note: You must record these meals in your workout posts, or other blog entries.)
DAY OF SILENCE: Silence is a rarity in today's world, but it's a staple of virtually all monastic and meditative traditions. For many, going 24 hours without talking be the most difficult feat to achieve. There can be no breaks of silence. Communication with others must be in written for, or via other non-verbal means. Ideally, the day of silence would also be a day of limited communication with others, as well as limited consumption of media, though these requirements are not strictly a part of the feat. Some inspiration here.
CARTWHEEL: To complete this feat, you must be able to execute a respectable cartwheel, with legs fully extended, and landing smoothly. For amusing explanations of the cartwheel, see here or here.
HULA HOOP: Must be able to hula hoop for one minute without dropping the hoop, or otherwise assisting with your hands. Check Hooping.org for instructions and examples.
JUMP ROPE: Must be able to jump rope for one minute, without mistakes, and, during this time, to execute at least five successful "criss cross" jumps. See here for good example of the criss cross jump.
SPOT TURN: The spot turn is central to virtually all forms of dancing. To complete this feat, you must be able to convincingly execute a spot turn, and, ideally, several in a row. See here for instructions and examples.
MOONWALK: Actually, it wasn't actually called the "Moonwalk" until Michael Jackson came along. (It seems the "Moonwalk" was a different dance, but MJ's label stuck.) Point is, if you can do this, you got moves. See here for instructions and inspiration.
SING: Singing, ideally with friends, is good for your health. Ask Brian Eno. To complete this feat, you must memorize and sing a song, in public or for a group of friends. Your performance can be a cappella, with accompaniment, or even via commercial karaoke, BUT you must know all the words and be able to carry the tune even without help.
JUGGLE: A classic and invaluable skill. To complete this feat, you must be able to juggle

three

items, continuously, without drops, for one minute. Instructions here, and inspiration here.
HALF CENTURY BIKE RIDE: Complete 50 Miles in five Hours or less. This is not a fast pace, and it even should allow for a break, like, say, lunch. The point is to get out and go for a long ride. If you want to go faster, please do. Regardless, please be safe.
BENCH YOUR WEIGHT: A timeless, macho measurement of basic upper body strength. It's not easy, but if you can do this, you can earn Big Respect in the free weights area of your local gym. A little training will go a long way here, but please be safe and work always with a spotter. For guidelines on form, see here.
FREE THROWS: To complete this feat, you must successfully complete five out of ten standard basketball free throws. A 50% free throw shooting percentage is solid for a non-player, and it would put you on a par with Shaquille O'Neal, who admittedly is one of the worst free thow shooters in the history of the NBA.
Latest Challenge Posts