Worm & Fuzzy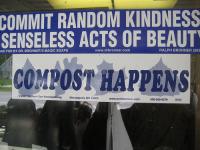 Yes, some people really do this: They live in the city, but they compost. Some compost by throwing their organic matter in a plastic bag in the freezer, and then schlepping the stuff to a municipal composting spot. Others, however, create a small eco-system under their sinks, complete with worms, which efficiently convert your old salad to nutrient rich fertilzer ready for your garden. Yes, to a hardened urbanite, having worms in the apartment might seen insane; but perhaps no moreso than giving up meat or alcohol for a few days. Changes of routine are healthy, especially if they put you more in touch with the natural world. Why not try it? Composting at least one full week of organic matter gets you this feat. After that, you're on your own with the worms.
Helpful links:
Image: Compost Poster by Vinzcha
Instructions:
Login or Register
to complete a feat! Swear that you're honest, then click!
Authored
on

12.18.09 at 05:07
by
Oliver
.
Worm & Fuzzy Related Posts