Take A Bath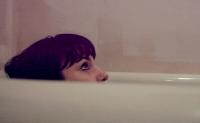 Showers are nice, but baths are therapeutic. Nothing so calming, or no moment so peaceful as that spent alone in the tub. It's the winter time, don't skimp. Light a candle. Turn off the lights. To complete the feat: Once a week, preferably with bubbles.
FEAT BONUS: 30% of all bath salts at Shē Essential Beauty with promotion code BATHFEAT.
(Image: "I Miss You" via Hilary the Mammal.)
Instructions:
Login or Register
to complete a feat! Swear that you're honest, then click!
Authored
on

12.21.09 at 07:16
by
Oliver
.
Take A Bath Related Posts