Swap Meat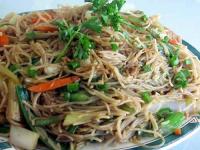 America is about hotdogs and applesauce, hamburgers and french fries, and steak. Yes, yes, yes, BUT it's also about innovation and open mindedness. We believe strongly that the unexamined diet is not worthy eating, and we feel everyone can learn an enormous amount by experimenting, if only briefly, with certain dietary restrictions. To complete this feat, then, you must go vegetarian one day a week over the five weeks of the challenge. Don't panic. Try tofu and seitan. They're awesome.
Yes you can!
(Image: MuseInTheCity.)
Instructions:
Login or Register
to complete a feat! Swear that you're honest, then click!
Authored
on

12.22.09 at 03:01
by
Oliver
.
Swap Meat Related Posts