Step It Up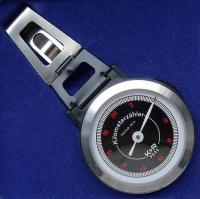 Pedometers are all the rage. The White House is way into them, as is Nike, and half a dozen heart rate monitor gizmo watch sellers, not to mention several iPhone app vendors. They can't all be crazy! To complete this feat, simply procure yourself a pedometer (analog or digital), and knock off at least 10,000 steps on any 20 days of the challenge. Yes, that sounds like a lot, but you may be surprised at how all those steps add up. Good luck!
(Image: Pedometer via WikiMedia.)
Instructions:
Login or Register
to complete a feat! Swear that you're honest, then click!
Authored
on

01.11.10 at 07:35
by
Oliver
.