Sleep Log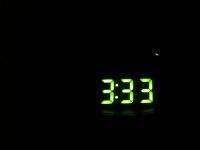 The unexamined slumber, is still worth sleeping. AND YET, you might be surprised at how the act of tracking your sleeping hours shifts their quantity and/or quality. To complete this feat, you must keep track of the time you sleep each night of the challenge. While you're at it, you may wish to note any dreams you've had, or other relevant color commentary. As "sleep" you may count all the time you spend in bed, with the lights out, eyes shut, and trying to sleep, regardless of whether you have actually drifted off. (Of course, you may want to keep separate accounts of time in bed vs. time actually asleep.) FYI: Were you to sleep for eight hours a night over the 32 nights of the challenge, you would sleep 256 hours. We'll give you a bonus for anything over 224 hours, which is an average seven hours a night. Final note: While you are welcome to post your hour count and color commentary to the site, this is not strictly required. Some people may wish for greater confidentiality around this information, (which some day soon we hope to be able to offer).
(Image: "I Couldn't Sleep" via @MSG)
Instructions:
Login or Register
to complete a feat! Swear that you're honest, then click!
Authored
on

12.21.09 at 07:05
by
Oliver
.
Sleep Log Related Posts