Reindeer Gaming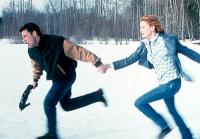 First, call a lonely friend. Then, to complete this feat, you must do at least one of the following with the friend: Snowball fight, sled, ice skate, prance in snow. Nothing is more lonely than being stuck alone inside on dark winter day. And nothing more liberating and bonding than playing outside in the winter with a friend. Recommended: Combine with the Divine Singing feat.
(Image: Reindeer Games)
Instructions:
Login or Register
to complete a feat! Swear that you're honest, then click!
Authored
on

11.18.09 at 01:21
by
Oliver
.
Reindeer Gaming Related Posts