Recover from H1N1 Virus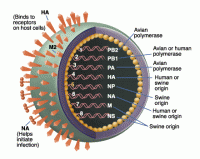 The so-called "Swine Flu" hit the world scene right around Memorial Day, and it's done its best to disrupt our collective march towards peak fitness this summer. In recognition the challenge it presents, we hereby make defeating the H1N1 a Feat of Summer. Should you get a bum break and catch the flu, don't despair. Crushing it with smart application of liquids, rest, and deep inward focus counts fully toward your 20 feat goal. 
Instructions:
Login or Register
to complete a feat! Swear that you're honest, then click!
Authored
on

09.03.09 at 04:18
by
Oliver
.
Recover from H1N1 Virus Related Posts