Personal chef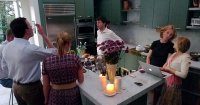 You know how in movies about New York there's always a scene where a bunch of people gather in some cool apartment and make dinner together and the soundtrack is some upbeat "Journey" song? We're not asking you to listen to "Journey"—but we do want you to cook ten meals for your friends. Ten meals. Ten different days. Don't worry about making some four-course feast. You can do a simple soup, a taco bar, even just a pot of great spaghetti. Then open your doors and let the eating begin.
Really Great Related Links:
Instructions:
Login or Register
to complete a feat! Swear that you're honest, then click!
Personal chef Related Posts