The One Thousands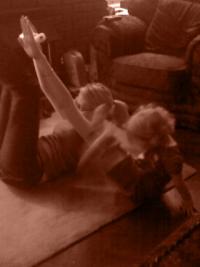 Simple, but effective: To complete the One Thousands feat, you must do 1,000 situps and 1,000 pushups over the 33 days of the challenge. Two things to point out: First, your situps may be of whatever variety you choose, i.e. crunches, windshield wipers, regular old situps, etc. Also, your pushups may be full pushups, and/or pushups from the knee, depending on your proficiency. You may also choose a substitute exercise for the pushups, though it must be of equivalent difficulty and simplicity. Second point: Please note that 1,000 is just about 30 per day of each. Piece of cake.
(Image: Situps with Daughter via Phil Campbell.)
Instructions:
Login or Register
to complete a feat! Swear that you're honest, then click!
Authored
on

12.21.09 at 08:45
by
Oliver
.
The One Thousands Related Posts