No-moo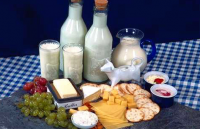 String cheese for a snack, half-and-half in your coffee, whole milk in your cereal, parmesan on your pasta and how about those drippy cheddar cheese quesadillas? You've got a lot of dairy in your diet—don't worry, we're not judging. But too much of it can make you mucusy and sluggish. Try cutting it out for a week and see how you feel. Not a big deal.
Really Great Related Links:
Instructions:
Login or Register
to complete a feat! Swear that you're honest, then click!