Love Soul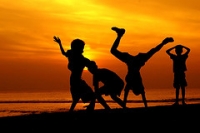 One hour of soul! You may come to this category with some skepticism. Even if you grant us some the existence of some vaguely defined notion of "soul," as distinct from mind and body (or belly), you would be right to wonder how exactly we suggest such a thing can be trained. Let's not argue. What we're looking for here is the feeling you might have while standing in the Nevada desert at dawn, or sitting quietly at the center of any very large space, or chanting Om in unision with 100 others at a killer yoga class. You know it when you feel it. And the more you feel it, the easier it is to feel. So to achieve this feet, you must get yourself into just such a situation, and soak it in:
Step 1: Think of something you would find wildly spiritual.
Step 2: Go there, alone or with a friend, family member, or lover.
Step 3: Be there.
Step 4. Repeat as necessary. Consider an hour (cumulative) to be your target.
Step 5: Share as appropriate.
Go back to the The Love Challenge Progress Page!
Instructions:
Login or Register
to complete a feat! Swear that you're honest, then click!
Authored
on

02.09.10 at 08:26
by
Oliver
.
Love Soul Related Posts