Love Body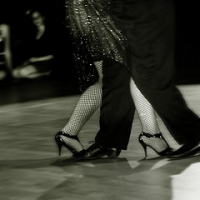 Two Hours of Body! Love almost always involves physical relationship, and such a relationhsip can be as rich and mutli-hued or narrow as the bodies involved. We're not talking simply about sex. The ability to sit still with any loved one or friend, to hold hands, to hug, to dance. Loving bodies are affectionate, fluent, sensitive. These things are not trivial. They take practice.
To complete the body feat, then, you must put your body into relationship. We leave the specifics to you, but you should set aside at least two hours for the feat. You might take a partner yoga workshop or a tango class. Treat yourself to a massage. Perhaps commit for the challenge to giving and receiving a daily diet of hugs or back rubs, or to holding hands, walking arm-in-arm. Yes, if possible, have more sex. Practice listening and speaking with your body. And to tune up your cells for all this work, consider making small adjustments, like sleeping naked for a week, jumping in a cold pool, rubbing snow on your face. Stimulate the skin! Clear out the lungs! Soak the eyes!
Step 1: Choose Your Path.
Step 2: Walk It!
Step 3: Share As Appropriate.
Go back to the The Love Challenge Progress Page!
Instructions:
Login or Register
to complete a feat! Swear that you're honest, then click!
Authored
on

02.09.10 at 05:01
by
Oliver
.
Love Body Related Posts