Locavore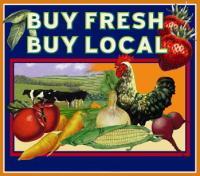 To complete the Locavore feat — which is new and improved from our Eat.Sweat.Blog. challenge — everything you consume for 24 consecutive hours must come from within 100 miles of your home. This hardly calls for suffering. Local breads, cheeses, wines, meats, seafoods, and, of course, fruits and veggies are easily found at your local farmers' market. You just may need to plan ahead a little. Eating local has many virtues: Your fruits and veggies will typically have ripened longer, and be fresher, and so taste better. When you buy them, you'll be supporting the local economy. And you'll be saving jet fuel and/or diesel which would otherwise be burned transporting your groceries from far off lands — thereby doing your part in the battle against pollution and global warming. It's also sort of cool to stay in touch with the seasons, and, when the going gets tough, and the trucks and planes aren't moving, we'll be in better shape if there are some farmers nearby to feed us....
Really Great Related Links:
Image: Seamus Murray
Instructions:
Login or Register
to complete a feat! Swear that you're honest, then click!
Authored
on

12.22.09 at 06:40
by
Oliver
.