Juice fast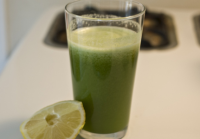 We know juice fasts can be faddist, (think San Francisco, the 1970s, hippie chicks in moomoos drinking liquid lettuce), but we're only asking you to do it for a day. Sip celery, carrot, kale, cabbage, apple, pineapple, cranberry, spinach, beet, and greens through a straw. Make sure it's fresh. If you don't have your own juicer, stay close to a juice bar and make several trips throughout the day. You'll feel light as a feather by the time your head hits the pillow.
Really Great Related Links:
image: green juice
Instructions:
Login or Register
to complete a feat! Swear that you're honest, then click!
Juice fast Related Posts