Home Workout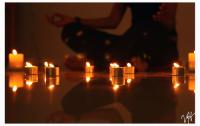 Clearly, we believe in social workouts. We think it's good to be around other people while sweating — to spend non-verbal time with friends and strangers, to find ourselves motivated and inspired. YET, sometimes the social workout is not available. Sometimes its not even desirable. We also believe deeply that every home should have space set aside for the body, i.e. room to dance and stretch, places to tumble, ideally with flying trapezes and swimming pools with nearby saunas. Living in the big city, or even the suburb, however, we must make do with less. But less is not nothing. Every home, no matter how small, should have space for stretching, perhaps pushups and situps, possibly meditation. To complete the Home Workout feat, you must create that space in your home, and then use it at least once a week over the course of the challenge. We're eager to hear how it goes, and especially hoping you'll share your interior design breakthroughs along the way....
(Image: Meditation via Vinni123.)
Instructions:
Login or Register
to complete a feat! Swear that you're honest, then click!
Authored
on

12.21.09 at 08:35
by
Oliver
.
Home Workout Related Posts