Go Veggie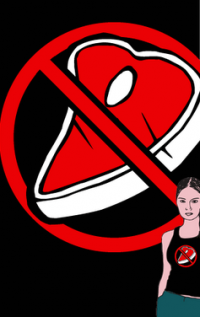 There you go again: Your meaty paw is reaching for another order of
glistening, bright red spare ribs. You bite into a greezy cheeseburger, a slimy hot dog, a pimpley chicken leg all covered in skin. You're a meat-lover, and we love you for it. But it's time to give the good stuff up. Just for a month. Pick up a crispy carrot, a rotund tomato, a mountain of silken swiss chard. Give your guts a rest. You'll be back on the beef before you know it.
Really great related links:
image: say no to meat
Instructions:
Login or Register
to complete a feat! Swear that you're honest, then click!
Go Veggie Related Posts