Festivus Pole Dancing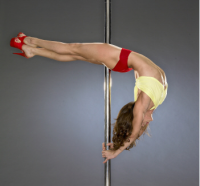 Festivus is a Seinfeldian holiday, which involves carrying a pole around and wrestling the head of your household. Doing either of these qualifies you to achieve the feat, but the official approach to achieving this feat is to take a pole dancing class at your nearest downtown gym or midtown joint or professional dance studio. Perhaps you'll meet Mamma Pole? Almost certainly, you will feel festive thereafter.
(Image: Wendy Traskos of NY Pole Dancing.)
Instructions:
Login or Register
to complete a feat! Swear that you're honest, then click!
Authored
on

11.18.09 at 02:56
by
Oliver
.
Festivus Pole Dancing Related Posts