Fast Foodless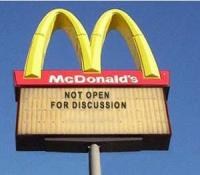 The wonders of free market capitalism have made certain tasty-but-not-particularly-healthy food experiences exceptionally cheap and convenient. But overreliance on big, national fast food chains isn't particularly healthy, for anyone. Just ask Morgan Spurlock. To complete this feat then, you agree to go the extra half mile to find the non-Big Mac option.
OK, what exactly do we mean by fast food. Clearly, the usual suspects are off limits: McDonalds, Burger King, Wendy's etc. But what about your local pizza parlor or Chipotle or the microwave hot dog at 7-Eleven? Answer: You will have to exercise some judgement. To complete this feat, you must find a way to honor each meal. The things to avoid are blatantly lazy restaurant choices, typically involving large franchising corporations, and/or otherwise featuring instant gratification with food sources that you wouldn't want to take home to Mom. Don't panic. There's alwasy another option. If you're living in New York, you might check out this Yelp page, and/or Clean Plates NYC for fast food alternatives.
Instructions:
Login or Register
to complete a feat! Swear that you're honest, then click!
Fast Foodless Related Posts