Energy Sabbatical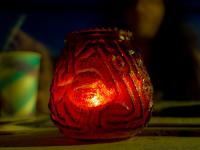 Turn off all non-essential home electronics, including the lights. Try a candle, and talking. To complete this feat, you must go largely electricity-free at home at least twice over the course of the challenge. No, you do not need to unplug your refigerator; and you can turn on your stove to cook. But scratch the TV, microwave, computer, powermixer, and anything else that is not strictly life-supporting. Think this is crazy, and need inspiration? Check out what Michelle Beavan, wife of No Impact Man, had to say about how the experience changed her life.
Image: Chris Gampat
BONUS: Every challenger that "feat accompli's" Energy Sabbatical will win a free yoga download from Natural Fitness.
Instructions:
Login or Register
to complete a feat! Swear that you're honest, then click!
Authored
on

12.18.09 at 01:45
by
Oliver
.
Energy Sabbatical Related Posts