Divine Singing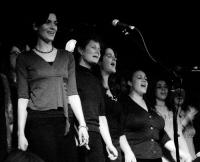 Singing is therapeutic, and emotionally and physically cleansing. It's perhaps the most ancient and proven of social workouts. To complete this feat, you must gather your friends, and sing to the heavens at least once over the holidays. Punk karaoke, Nintendo Rock Band, or Christmas Caroling will all do.
(Image: John Carney.)
Instructions:
Login or Register
to complete a feat! Swear that you're honest, then click!
Authored
on

11.19.09 at 11:34
by
Oliver
.
Divine Singing Related Posts