Brown Bagger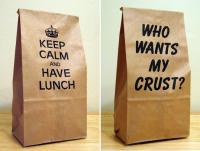 Remember emptying the contents of your lunch bag to discover a hand-writen note from Mom tucked tightly between your turkey sandwich and pretzel sticks? Or the way the american cheese and mayo oozed through the white bread after spending five hours too many stuffed in a locker? Well, it's time to revisit the good old days!
To accomplish this feat, you must bring your lunch to work at least 10 days. (Melting cheese, love notes, and lockers not included). You'll save money, eat better, and have a reason to tote around a new uber cool accessory. Brown bags are the new black, after all. Try out some of these great meal ideas to get you started. Or throw some peanut butter between two slices of multi-grain and call it a day.  All the cool kids are doing it.
Instructions:
Login or Register
to complete a feat! Swear that you're honest, then click!
Brown Bagger Related Posts