9.) Squats!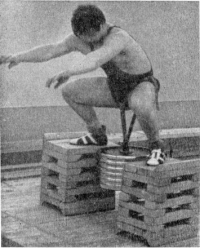 No, you do not need to harness yourself to 500 pounds of iron, and stand on wooden crates. Yes, you do need to do 1,000 squats over the course of the month. These squats may be with or without weights — you just need to lower yourself into a bent-kneed position, and then rise up again, triumphant. Then repeat the process 999 more times. It's primal, it's exceptional for your quads and hamstrings and butt, and it can be done anywhere.
(Image: This Crazy Blue Musclehead Site.)
Instructions:
Login or Register
to complete a feat! Swear that you're honest, then click!
Authored
on

02.25.10 at 01:11
by
Oliver
.
9.) Squats! Related Posts