4.) Cardio, Unplugged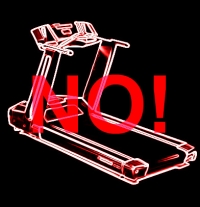 Run, dance, swim, cycle, jump rope, climb, do donkey kicks! To complete this feat, you must elevate your heart rate and exercise your lungs for at least five (5) hours in March. Easy right? Here's the catch: There can be no machines involved: No treadmills, ellipticals, ergs, or stationary bikes. Let's be clear, you can still use those machines, but time spent with them does not count towards this feat. See? Five of your precious cardio hours must be au natural! And here's the kicker, at least 30 of those 300 minutes must be sprints.
Instructions:
Login or Register
to complete a feat! Swear that you're honest, then click!
Authored
on

02.25.10 at 02:07
by
Oliver
.
4.) Cardio, Unplugged Related Posts