3.) Ritual and Rhythm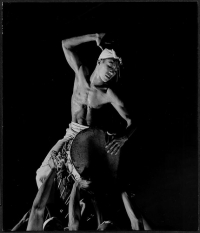 Human beings are social creatures. While we may commune with nature standing alone and quiet in the middle of a forest, we may get equally deep into our own nature when surrounded by a dozen sweaty bodies in a room with a thumping drum beat. This feat is about our need for wild rhythms and human ritual. To complete it, you must take at least three group classes over the course of the challenge: As in dance classes, yoga classes, or some other ritualistic group experience in which you commune with one or more other bodies. Think martial arts, capoeira, wrestling, or perhaps just drumming. Enjoy!
(Image: Dancer, 1948)
Instructions:
Login or Register
to complete a feat! Swear that you're honest, then click!
Authored
on

02.25.10 at 01:14
by
Oliver
.
3.) Ritual and Rhythm Related Posts