1.) General Exercise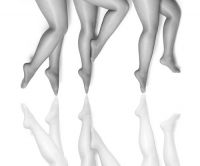 This is the foundational feat: Just. Get. Exercise. For the Feralicious Challenge, we encourage you to go unplugged, but, as always, the "workout" is in the eye of the beholder. To complete the feat, you must get exercise on 20 days in March.
If you like to walk for miles, or sprint for minutes, or simply stretch, it's all good. It might be helpful to point out certain things that we think are only marginally countable, say mopping your floor or walking around the grocery store. You may break a sweat, but a workout should generally involves some time set aside for the purpose, i.e. some intention. Beyond that, the sky's the limit.
Image: Day 220!
Instructions:
Login or Register
to complete a feat! Swear that you're honest, then click!
Authored
on

02.25.10 at 02:05
by
Oliver
.
1.) General Exercise Related Posts