over&out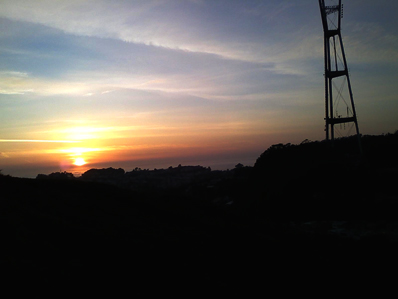 Again conceding to sentimentality, I confess I am a sucker for sunsets. Not just the kind savored on horizons, if anything, my favorites are the ones that catch you off guard as you're rushing down 5th Avenue and then glance to the right and are stopped in your tracks by the wonder that is the twilit sky rendering the cacophonous metropolis a stoic silhouette.
A Euro-fawning friend brings up Florence and the way the setting sun "washes across its buildings." When I hear this, the thing that comes to mind is Manhattan's Louis Sullivan building, crowning Crosby Street at Bleecker, with its fraction-of-an-inch relief moldings that capture ebbing daylight in god-dwelling-in-details majestic form.
When I was growing up, I spent some summers on the westward-facing coast of Lake Michigan. It was there that I developed a bias for foot massages by walking in sand and climbing massive dunes to overlook the sun succumbing to water. I don't think I've ever been more at peace than during the hours spent at the mercy of the mantra of crashing waves, wind, sky and sand. Don't get me wrong, I am a borderline atheist. Perhaps for this reason I need tangible goods to make me feel soul.
So now, in this last week when it wasn't gray, I trekked by pedal and foot to the penultimate point in town to watch the sun sink down. 5:49pm and 5:51pm, respectively. It's like the best of all worlds, where city meets infinity.